Physical Education
PE Curriculum Intent
Physical Education is an integral part of the children's everyday life. It is important for us all at Sunnyside Primary Academy to stay active in order to have healthy minds and bodies. We build upon children's prior learning, skills and knowledge to develop their minds, bodies, and engagement within our school community.
Achievement
Our pupils can achieve on an individual level in every Physical Education lessons and by learning to take part in healthy competition. They also have the opportunity to achieve through inter-school competitions.
Perseverance
Our children learn to persevere when learning new skills in PE. They further show perseverance by applying these skills to game situations, as well as during their daily school life.
Responsibility
At Sunnyside Primary Academy, we aim to provide a PE curriculum where pupils experience a range of activities that help them to develop their health, fitness and wellbeing. This enables the children opportunities to become responsible within their own lives.
Aspiration
We aspire to master basic movements, participate in team games and perform dances using simple movement patterns. By the end of Key Stage 2, all children will have had swimming lessons. They aspire to swim 25m by the end, develop a range of strokes and to become efficient swimmers with life-long skills. We aspire for them to be active pupils now and in the future.
Implementation
All children partake in PE lessons twice weekly, both inside our well equipped hall, on the playground or sports field. Lessons are taught both by teachers and specialist PE coaches.
We follow Primary PE Planning (PPP) scheme of work which supports all areas of the PE curriculum and supports children to develop a variety of sport skills.
PPP - A teaching resource, created by teachers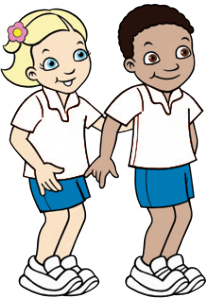 Primary PE Planning has been developed by teachers for teachers. Our resources support primary schools to deliver fun, high quality and sustainable PE lessons.
Inspire a Generation

Our core philosophies, which make us unique:
Every child matters – quality learning opportunities for all abilities.
Exciting learning journeys – clear, measurable learning journeys for all abilities.
Assessment without levels – measuring every child's progress.
Free flowing lessons – responsibility towards the learner, development of leadership skills.
Children should come to school in PE kit on PE days only.